Kenyan shilling forecast: KES direction of travel uncertain in disputed election fallout – Capital.com
Scan to Download iOS&Android APP
By Fitri Wulandari
Edited by Alexandra Pankratyeva
13:27, 23 August 2022
The shilling (KES), Kenya's official currency, has continued to weaken against the US dollar (USD) this year.
Uncertainty on the largest economy in East Africa after Deputy President William Ruto was declared the winner in the disputed presidential election on 9 August, added pressure to the already weakened Kenyan shilling.
The Kenyan shilling has weakened to an all-time low of more than 119 against the US dollar following the result of the presidential election. At the time of writing (22 August), the USD/KES has risen more than 5% this year.
What is the Kenyan shilling forecast for the rest of the year? We take a look into the Kenyan shilling's historical performance, the latest news and forecasts from analysts.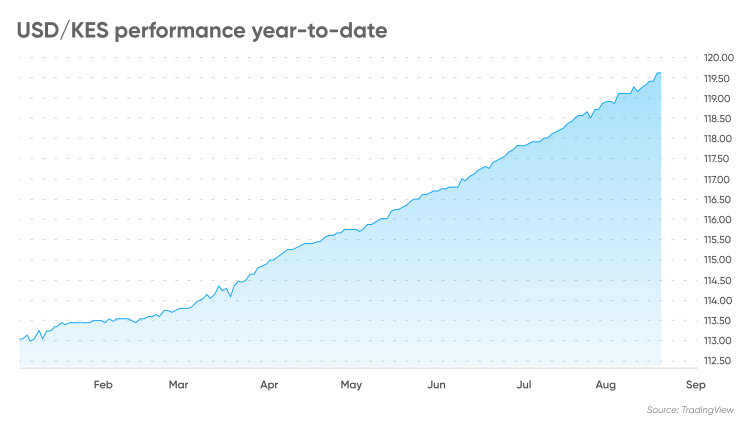 The Kenyan shilling is the official currency of the Republic of Kenya. It's represented by ISO currency code KES.
Kenya adopted the shilling after it declared independence from the British Protectorate in December 1963. The Kenyan shilling was officially introduced as the country's currency in 1967 following the establishment of its central bank a year earlier.
The USD/KES currency pair denotes the exchange rate of the US dollar (USD) to the Kenyan shilling.
Commodity and energy prices play significant roles in the USD/KES exchange rate.
Kenya is one of the world's top exporters of agricultural products. Its main exports include tea and coffee. At the same time, the country relies heavily on oil products, palm oil and machinery imports.
As commodity and energy products are priced in US dollars, the prices for them could increase demand for the US dollar to pay.
High prices for imported commodities and energy could inflate import bills and affect Kenya's balance of payments. Data from the World Bank shows Kenya recorded a $788m deficit in the balance of payments in 2021 compared to a positive $1.427bn in 2020.
As of May 2022, the country's balance of payments stood at minus $422m, according to data from the Central Bank of Kenya (CBK).
Debt also affects the USD/KES. Kenya's external debt stood at KES 4.29trn ($35.85bn), as of May, up from KES 3.8trn ($31.75bn) in May 2021, based on data from CBK. About 67% of external debt is denominated in US dollars, according to asset management and private equity firm Cytonn in its note on 15 May.
The Kenyan government has continued to dig into its foreign exchange reserves to service external debts, weighing down the shilling, Cytonn wrote.
The DSSI was established by the G20 in May 2020 to suspend debt payments from the world's poorest nations so they could focus their financial resources in fighting the Covid-19 pandemic.
Kenya is one of 48 countries participating in the initiative that suspended a total of $12.9bn debt-servicing payments.
Remittance from Kenyan citizens who work outside its borders can also affect the USD/KES. Remittance is one of Kenya's biggest sources of foreign exchange.
In the 12 months to July 2022, remittance rose 16% to 3.99bn, up from $3.44bn for the same period in 2021, CBK's data shows. The US remains the largest source of remittances in Kenya, accounting for 58% of the total in July 2022.
According to TradingView data, the Kenyan shilling was fairly stable against the US dollar from 2018 to 2019, trading in a range of 99.35 to 103.35 a dollar.
The KES experienced volatility after the Covid-19 pandemic arrived in 2020 as restrictions to curb the spread of the disease disrupted economic activity, including tourism and foreign investment.
Data collected by Deloitte showed tourist arrivals in Kenya fell 78.4% in 2020 from the previous year. Revenues from tourism, which contributed to about 9% of Kenya's gross domestic product (GDP), fell to KES 0.5bn in 2020, from KES 163.6bn in 2020.
In 2020, the USD/KES rose 7.7%. An increase in the USD/KES value means that the KES is weakening against the USD. Conversely, a drop in the USD/KES value means the Kenyan shilling is strengthening against the dollar.
EUR/NZD
USD/JPY
NZD/USD
GBP/NZD
Starting mid-2021, the Kenyan shilling's depreciation against the US dollar accelerated in line with rising oil prices as countries reopened and lifted restrictions, boosting demand for fuel.
The international benchmark Brent price started 2021 at $50 per barrel (bbl) and closed the year at nearly $78/bbl. The USD/KES closed up 3.52% in 2021.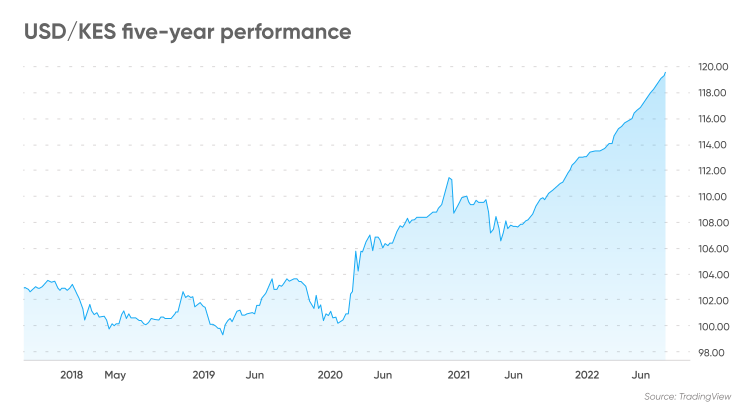 In 2022, the Kenyan shilling continued to fall in value. The currency has depreciated by 5.75% year-to-date (YTD). As of 22 August 2022, KES stood at 119.6 per dollar, briefly hitting a record 119.8, down from the 113.5 level in early January.
Global oil prices have remained elevated after reaching as high as $139/bbl in March as the Russia-Ukraine conflict worsened supply chain constraints induced by the pandemic, according to the firm.
In addition, the reopening of economies has boosted fuel demand, outpacing supply and increasing Kenya's import bills, consequently weakening the shilling, it added.
At the time of writing (22 August), Brent has retreated to $95.78/bbl – but year to date has gained 9%.
To add more pressure, the US Federal Reserve has raised interest rates since March 2022 to curb soaring inflation. Rate hikes have strengthened the USD, prompting dollars to flow back to the US from emerging and developed markets, according to Cytonn.
The currency has weakened further since the presidential election result was announced last week, which was won by Deputy Presiden Ruto.
Standard Bank, South Africa's biggest lender in terms of capital, in its KES prediction on 1 July expected the shilling to weaken to 119-121 per USD dollar due to a deeper trade deficit, higher dividend repatriations by corporates, and increased external debt repayments by the government.
Standard Bank expected USD/KES to average 118.5 in 2022, weakening to 122.5 in 2023.
In its KES forecast on 15 May, Cytonn projected the Kenyan shilling to trade within a range of 115.1 and 119.1 against the USD in the medium term. The high costs of oil imports due to elevated global oil prices and rising import costs caused by supply-chain bottlenecks are among the factors causing the KES to depreciate.
Cytonn also expected the Kenyan government to ramp up borrowing in order to plug the fiscal deficit, which is estimated at 7.5% of GDP for the FY 2021/22 budget
Economic data provider Trading Economics in its USD/KES forecast (as of 22 August) expected the Kenyan shilling to trade at 119.78 a dollar, depreciating to 120.32 in 12 months time.
Cytonn, Standard Bank, and Trading Economics did not provide KES predictions beyond 2023.
Algorithm-based price forecasting service Wallet Investor was bearish on the currency (as of 22 August), noting that USD/KES could be a "not so good long-term (one year) investment".
As of 22 August, the service predicted in its Kenyan shilling forecast for 2022 that the USD/KES could trade at 120.860 a dollar in December 2022.
Wallet Investor's Kenyan shilling forecast for 2025 saw the currency depreciate to 135.888 by December 2025 and trade at 144.956 in August 2027
Wallet Investor did not provide Kenyan shilling forecasts for 2030.
Keep in mind that analysts and algorithm-based USD/KES forecasts are subject to error. They should not be used in place of your own research. Before trading, always conduct your own due diligence by reviewing the latest news, technical and fundamental analysis, and analyst commentary.
Remember that past performance does not guarantee future results. And never trade money that you can't afford to lose.
There are many factors that cause the Kenyan shilling to lose value. But the main factors mentioned by analysts in this article are soaring energy and commodity prices, which have forced Kenya to use more US dollars to pay for imports – which are denominated in USD. The country's rising external debts have also lifted its need to purchase USD, weakening the shilling.
Analysts in this article expected the Kenyan shilling to continue to depreciate in 2022 at a range between 119 to 121 against the USD. Noted that analysts and algorithm-based KES forecasts can be wrong. There are many factors that can affect the Kenyan shilling's value, including oil and commodities prices, and USD demand for external debt repayments.
Analysts mentioned in this article did not provide trading guidance for the USD/KES. However, if you decide to trade USD/KES, remember to always do your own research on the currency pair by reviewing the latest news, technical and fundamental analysis, and analyst commentary. Bear in mind that past performance does not guarantee future results. And never trade money that you can't afford to lose.

Rate this article
Rate this article:
Share this article
Comment
Rate this article
Rate this article:
Share this article
There are currently no responses for this story.
Be the first to respond.
Most traded
Most traded
Most traded
Most traded
Most traded
Most traded
Join the 455.000+ traders worldwide that chose to trade with Capital.com
Also you can contact us: call +44 20 8089 7893 • support@capital.com
CFDs are complex instruments and come with a high risk of losing money rapidly due to leverage. 81.40% of retail investor accounts lose money when trading CFDs with this provider. You should consider whether you understand how CFDs work and whether you can afford to take the high risk of losing your money. Risk Disclosure Statement
The value of shares and ETFs bought through a share dealing account can fall as well as rise, which could mean getting back less than you originally put in. Past performance is no guarantee of future results.
Risk warning: сonducting operations with non-deliverable over-the-counter instruments are a risky activity and can bring not only profit but also losses. The size of the potential loss is limited to the funds held by us for and on your behalf, in relation to your trading account. Past profits do not guarantee future profits. Use the training services of our company to understand the risks before you start operations.
Capital Com SV Investments Limited is regulated by Cyprus Securities and Exchange Commission (CySEC) under license number 319/17. Capital Com SV Investments Limited, company Registration Number: 354252, registered address: 28 Octovriou 237, Lophitis Business Center II, 6th floor, 3035, Limassol, Cyprus.